Alfa-Air Quantus 50 - sale item no. D7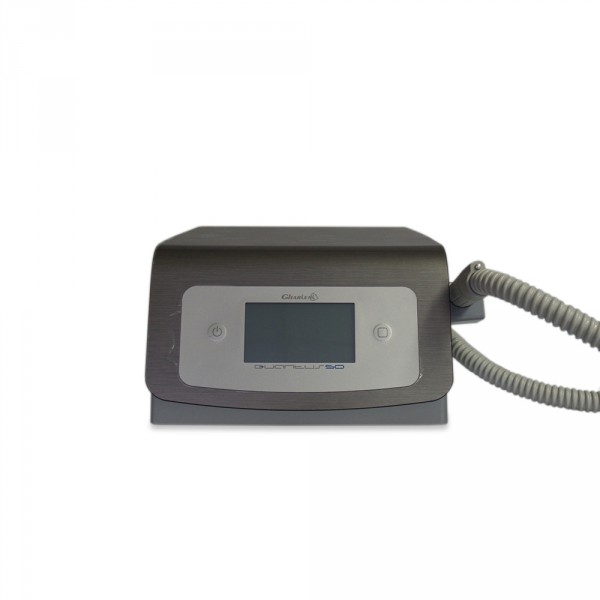 Please
sign in
to see prices and to continue shopping.
Description
Product information "Alfa-Air Quantus 50 - sale item no. D7"
Alfa Air QUANTUS 50 - sale item D7

from approx. 5,000 to 40,000 rpm
connectible LED-illuminated handpiece
adjustable light intensity
LED-lighting in the back section of the handpiece for identifying standby-mode
big touch-display with indications of each function
suction filter control-system
combined memory functions (suction and rpm)
standby-switch on handpiece
steplessly-adjustable rpm-control
clockwise/anticlockwise rotation
quiet and smooth-running operation
power of brushless suction-turbine: 50 W
max. 52 dBA
volume of dust bag: approx. 296 cm3
weight of the appliance: approx. 2.8 kg (6 lbs)
Condition

A quantum leap in suction technology
Higher, faster, further - this is the principle in the area of sports. This means, when applied to pedicure: quiet, strong, light. The new Alfa Air Quantus combines each of these skills.
QUIET:
The appliance is one of the quietest ones (only 52dBA) on the pedicure market. You have to really listen to find out whether the appliance is operating or not.
STRONG:
Operating with brushless micro actuators, the appliance provides 5,000 to 30,000 resp. 40,000 rpm optimum torques. No ?slipping? of the milling, no ?sticking? of the micro motor even at low speeds with a bigger milling diameter. Moreover, the brushless suction motor provides an efficient suction capacity and a long service life (with a 3 year guarantee).
LIGHT:
Due to its revolutionary suction technology, the appliance is lightweight as it is not equipped with traditional heavy suction turbines. This provides the technician with better working tools for mobile pedicures and a reduced workload.
Related links to "Alfa-Air Quantus 50 - sale item no. D7"
Item number:

G-I-33195-D7