Gharieni E-Line Soft, medium, heating, wenge, PU choco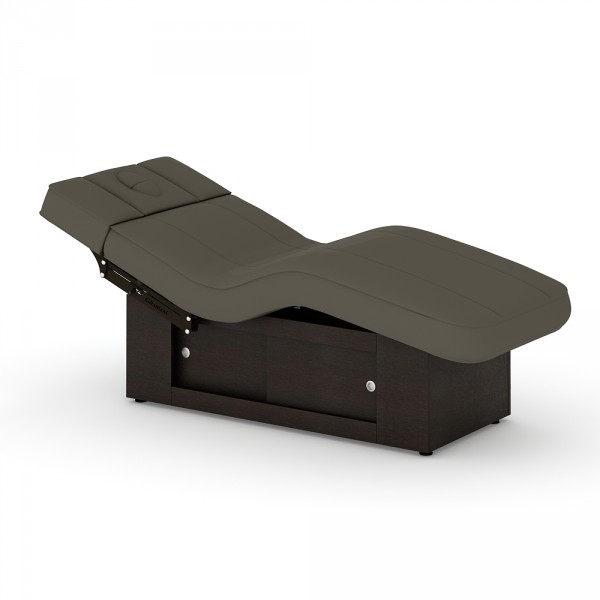 Please
sign in
to see prices and to continue shopping.
Description
Product information "Gharieni E-Line Soft, medium, heating, wenge, PU choco"
Gharieni E-Line series
The practically designed wellness lounger E-Line offers perfect lying and working in equal measure.
The special feature: The compact lounger base moves up with the lying surface and can be equipped with normal storage compartments as well as -optionally with a warming drawer. This ensures both optimal legroom and easy access to your working utensils during treatment. Four preset and two storable treatment positions as well as a control via wired hand switch or optional Bluetooth foot switch additionally facilitate the daily work. The pleasantly soft PU pad is available in 'Small' and 'Medium' sizes.
Features:
- Height, leg and back area electrically adjustable
- Armrests can be lowered
- Nose slot
- Four treatment positions preset, two further positions freely storable


Including the following options:
- Thermo
- Soft upholstery
- Wenge base design, choco upholstery
- Metal parts in RAL8022 Blackbrown
- Base with storage compartments

Technical data:
Height (soft upholstery): 59-97 cm
Length: 204 cm
Width: M 82 cm
Lifting capacity: 250 kg
Load capacity of the lying surface: 300 kg
Related links to "Gharieni E-Line Soft, medium, heating, wenge, PU choco"
Item number:

W13MD0M1T4B1H284P22R22F0L00D0PX