Lütticke Mykored mit Pumpe 70 ml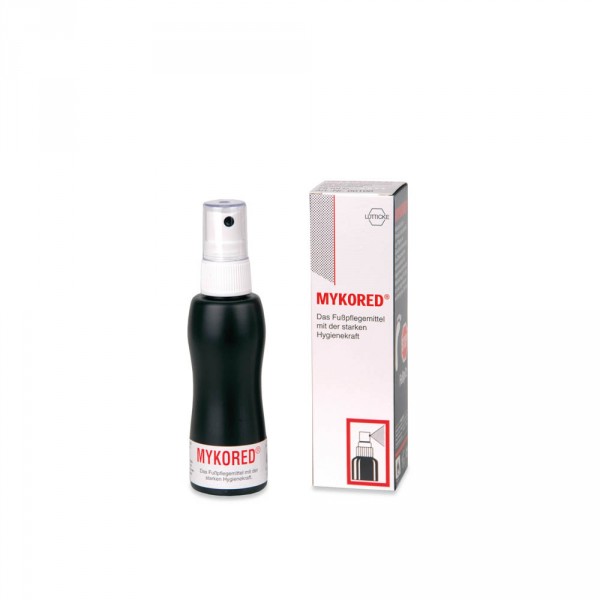 Please
sign in
to see prices and to continue shopping.
Description
Product information "Lütticke Mykored mit Pumpe 70 ml"
Mykored Lotion
Flüssigpflege nach der Behandlung mit rückfettenden, keim- und pilzhemmenden Komponenten. Wirkt erweichend auf harte Haut. Mykored Lotion ist besonders für die Pflege der schwer zugänglichen Zehenzwischenräume und der Nägel geeignet. Durch erhöhte Hygiene bietet sie bei regelmäßiger Pflege Schutz vor Haut- und Nagelinfektionen und führt zur Geruchsverbesserung der Füße. Die Pipettenflasche ist ideal für die Pflege der Zehenzwischenräume und der Nägel in der Praxis. Für die Fußpflege nach Schwimmbad- oder Saunabesuchen empfehlen wir die Sprayflasche.
Mykored Fußpflegemittel bekämpfen effektiv das Auftreten unangenehmer Fußgerüche und pflegen insbesondere die schlecht zugänglichen Zwischenzehenbereiche. Ihre starke Hygienekraft bietet wirkungsvollen Schutz vor Fuß- und Nagelpilz. Fuß- und Nagelpilzerkrankungen sind Dermatomykosen, die sich schnell im Zwischenzehenbereich, und dem Fuß ausbreiten können. Häufig findet die Übertragung in Schwimmbädern, Saunen, Wasch- und Duschräumen statt. Aber nicht jeder Kontakt führt zur Erkrankung, oft liegt schon vorher eine Schädigung der Haut vor. Daher ist eine gute Fußpflege der beste Schutz vor diesen Infektionen. Alle Mykored Produkte werden in unserem Haus hergestellt und unterliegen einer ständigen Qualitätskontrolle. Die Haut verträglichkeit wurde von Dermatologen geprüft. Mykored-Produkte werden nur an den Fachhandel geliefert, denn die kompetente Beratung des Endverbrauchers beim Kauf ist uns wichtig.
Related links to "Lütticke Mykored mit Pumpe 70 ml"