SL XP 4, basic version: white casing, white synthetic leather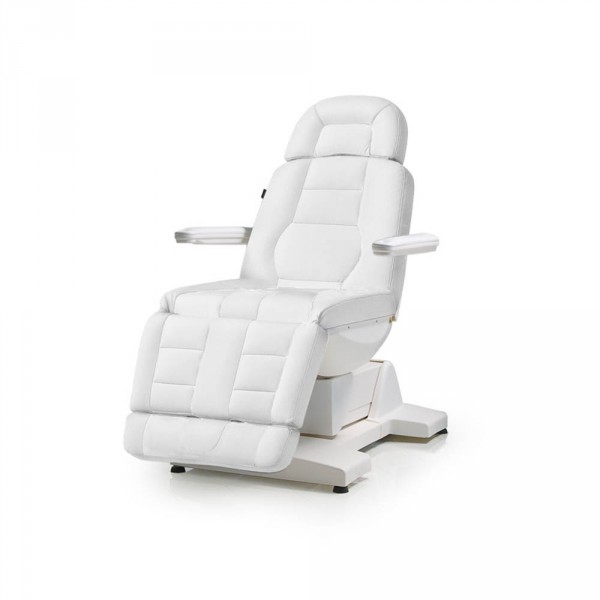 Please
sign in
to see prices and to continue shopping.
Description
Product information "SL XP 4, basic version: white casing, white synthetic leather"
Multifunction Spa Table Gharieni SL XP 4

The Multifunction Spa Table SL XP 4 is about 'carefree top quality?. This bed always puts your customer in the perfect position. Its attractive look and the high-quality materials make the Gharieni SL XP 4 a top model among treatment beds. The attractive base with the matching lifting column is capable of a sensational lifting range of 59 to 90 cm. The access height and the maximum massage height can be optimised to suit your customer?s and your own preferences. The 4 electrical and maintenance-free low-voltage motors do not produce any noise or vibrations. You can use the memory keys to store and access the 3 settings you use the most. The XP upholstery of the SL ?breathes?, is ergonomically shaped and is in one piece, meaning that there are no gaps between the seat and the backrest, nor between the seat and the legrest. This offers the customer more comfort when undergoing all treatments, including massage treatments.
Treatment bed SL XP 4

With four motors, fully electric.

Technical details:

? Height: 59 cm - 90 cm*
? Length: 144 cm - 203 cm
? Width with / without armrests: 62 / 80 cm
? Lifting capacity SLXP1+2 / 3+4**: 135 / 160 kg
? Loading capacity of seating surface**: 160 kg
Options:
Upholstery:
Airback
Smart-Thermo
Vibro-Wellness
Colour upholstery
Bi-Colour upholstery
Logo embroidered on upholstery

Headrest:
Dentalax
Colour Dentalax
Bi-Colour Dentalax
Logo embroidered on Dentalax
XL extension
Colour-XL extension
Bi-Colour-XL extension
Audio-relax headrest

Base:
Rotonde (approx. 2 cm higher entrance)
Override-function
Colour shells
Set of casters Art. 73006
Spline safety facility

* Height at lowest position from fl oor to upholstery seam
** The values contain a safety factor
Related links to "SL XP 4, basic version: white casing, white synthetic leather"
Item number:

K1M4R0T0V0K0A0F0P2A1WEWEWEWE