Spa table MLW Classic series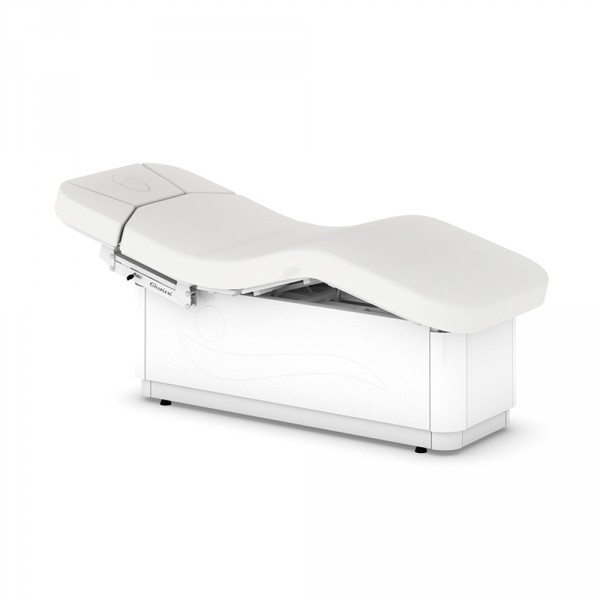 Please
sign in
to see prices and to continue shopping.

Description
Product information "Spa table MLW Classic series"
Gharieni MLW Classic series
The client can guide the design process from the upholstery to the paneling to suit individual needs and according to overall design aesthetic. Access height ranges from 57 cm and can be increased to 92 cm high to adapt to all therapists heights. The width of the lying surface ranges from small: 76 cm, to medium: 85 cm and even large: 92 cm. Cushion thickness is about 10 cm and the base is narrow at only 55 cm. The armrests can be lowered laterally by Stabilus gas pressure springs.
Key features

classic spa table bed surface in three widths (S, M and L)
4 actuators + 4 memory positions
height, inclination, back rest and foot section electronically adjustable
pneumatically adjustable headrest by +/- 30°
pneumatically adjustable armrests
PU upholstery
extensive range of different decors and versions optionally available
mechanically retractable castors
international voltages available
Optional features

Triple-Airback technology: electro-pneumatic 3-zone lumbar support system in the upholstery
Foot switch: to control the basic functions
Smart-thermo heating: programmable heating system with automatic shut-down
Vibro-Wellness: gentle vibration system with a range of different settings
Custom coloured upholstery with maximum 2 colours in PU, synthetic leather or Ferrari Stamskin
Audio-Relax headrest: with built-in speakers to connect to standard players
Metal components in custom colour (white, titanium or dark brown are standard)
Decorative surfaces from our collection (white and wenge are standard)
Specifications:
height: 57 - 92 cm (22.4 - 36.2 in)
length: 203 cm (79.9 in)
width: S 76 cm / M 85 cm / L 92 cm (S 29.9 in / M 33.5 in / L 36.2 in)
lifting capacity: 250 kg (550 lbs)
load capacity of the bed surface: 300 kg (660 lbs)
*Pictures can show optional features, the indicated price always refers to the basic version*
Related links to "Spa table MLW Classic series"
Item number:

I-496TXTAXVXAXR1HXXXPXFX