Gharieni 601 Soft MediumSmall (80), Thermo, Choco, Wenge, 8022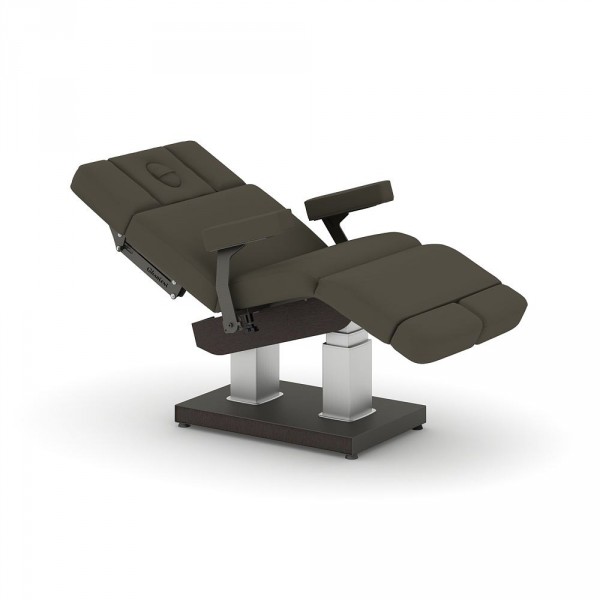 Please
sign in
to see prices and to continue shopping.
Description
Product information "Gharieni 601 Soft MediumSmall (80), Thermo, Choco, Wenge, 8022"
Description
The brand new Gharieni 601 High-Performance combines the best features of a wellness couch and beauty couch in one. Thanks to its completely new concept, the Gharieni 601 offers perfect multifunctionality and ergonomics for every use. As the name suggests, the 601 High-Performance is a true 6 in 1 multi-talent. Thanks to its transformation skills and its extremely flexible arm and head sections, facial treatments, pedicures, manicures, massages, make-up or hair care applications are effortlessly possible with this couch. The stable double lifting column technology ensures a secure stand and provides the basis for this exceptional treatment couch. The swivelling side armrests ensure quick and easy access from the side by simply folding them down and pushing them under the couch. If necessary, e.g. for massages, the armrests can also be removed completely.
The fold-away headrest, which is available in three different versions, provides free access to the head and neck (e.g. for hair washing).The Gharieni 601 High-Performance has four preset treatment positions, two further positions can be freely stored. The fully electric operation of the couch is possible by hand or foot switch. A smartphone app is optionally available for the Gharieni 601 High-Performance, which can be used to control all functions that can otherwise be selected via the hand switch.
Features
Double lifting column technology for extreme load capacity
Fully electrically adjustable
Cushion of the couch in 80 cm (smallmedium)
Soft upholstery
Standard headrest with nose slot
Fold-away head section for free access to head and neck (e.g. for hair washing)
Swivelling, removable side armrests for easy access
Lateral swivelling and lowering armrests on the headrest for effective massages
Operation via hand control
Four treatment positions preset, two further positions freely storable
Safety lock
Choco upholstery, wenge wood elements, RAL8022 metal parts
Thermo heating system

Technical data
Height: approx. 59 cm - 99 cm (soft cushion +5 cm)
Length: max. 183 - 203 cm
Width (without armrests): 75/80/85cm
Lifting capacity: 400kg
Load capacity of the lying surface: 450 kg
Related links to "Gharieni 601 Soft MediumSmall (80), Thermo, Choco, Wenge, 8022"
Item number:

601L80K1A1L1P72H284T4F0R8022L0EUPX