Airfree® air purifier Iris 150, white, max. 60m²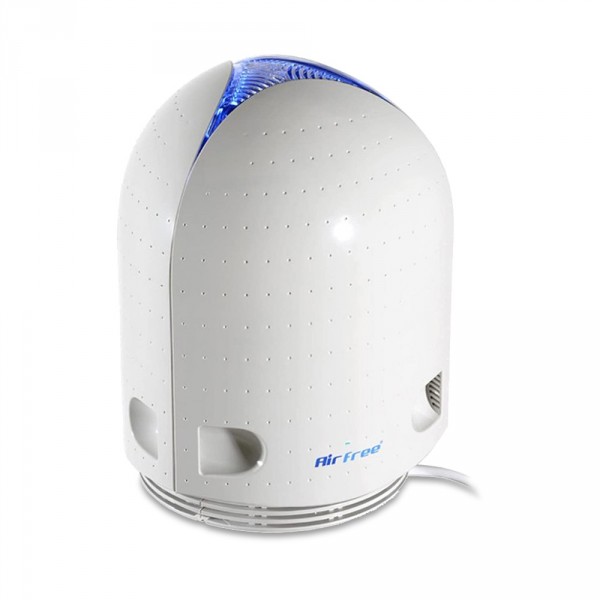 Please
sign in
to see prices and to continue shopping.
Description
Product information "Airfree® air purifier Iris 150, white, max. 60m²"
Airfree® air purifier Iris 150, white, max. 60m²
- exclusive TSS technology, eliminates allergens, viruses, bacteria, pollen and mould spores
- no maintenance, completely silent, no ozone or ion release
- small, energy-saving, with overheating protection and automatic switch-off
- blue night light (can be switched off)
- Ideal for rooms of max. 60 m²
- Tested worldwide by independent ISO laboratories
- Perfect use in treatment rooms, offices and lounges
- with colour change mode, choose from 10 colours or random mode
What Airfree® destroys:
- Mould and mildew
- Viruses
- House dust mites and allergens
- Animal hair allergens
- Organic odours
- bacteria
- Ozone (O3)
- Pollen
How the Airfree Iris 150 works
Like all Airfree air purifiers, the Airfree Iris 150 uses a highly effective sterilisation concept that works in a similar way to boiling water. When water boils, the germs it contains are killed. The Airfree P60 with its unique and patented technology applies this principle to the air inside the room. There it is heated to approx. 200°C in the ceramic core and all organic components are destroyed. No new particles are created during this process. The cleaned air is cooled down before it leaves the device. Therefore, the air purifier does not change the room temperature or humidity. The Airfree P60 has a blue anti-stress light that wraps the room in a pleasant colour. Therefore, this air purifier can also be used as a night light.
The Airfree Iris 150 has many advantages. The device does not require any filters at all, so that you do not have to plan for follow-up costs due to additional filter purchases. In addition, the room air purifier is completely maintenance-free and does not need to be programmed or supervised. Its safe technology allows the unit to remain in operation 24 hours a day, even when you are absent. This is also made possible by its low power consumption. The noiseless technology of the Airfree P60 does not disturb in any situation, not even when sleeping. The destruction of air pollutants using heat is considered to be particularly effective and environmentally friendly - no waste is produced, no chemicals are used and even chemical-resistant pollutants can be effectively removed.
Enjoy clean air without side effects!
Related links to "Airfree® air purifier Iris 150, white, max. 60m²"