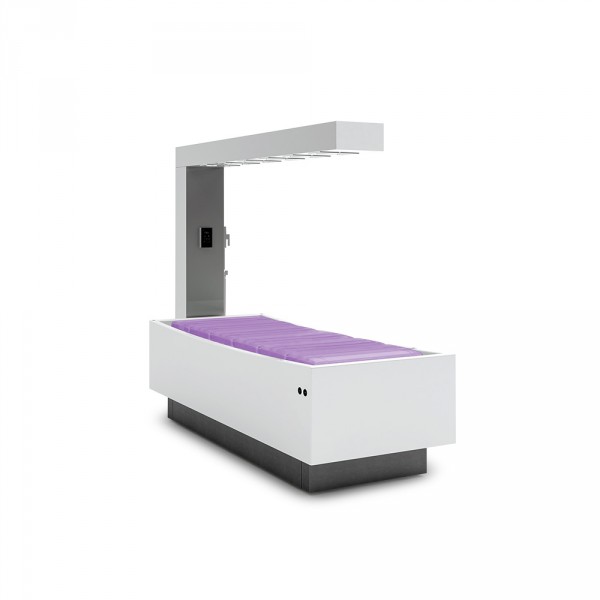 Please
sign in
to see prices and to continue shopping.

Description
Product information "Libra Edge series"
Gharieni Libra Edge
Gharieni's new Libra treatment table cements the company's position as the trendsetting company in the Wellness and Spa arena. Cutting edge in design, this creates a new water experience for clients who are in a relaxed supine position on a heated treatment table that is fully adjustable in height and length. The integrated state of the art technology provides a unique choreography of varying water temperatures and pressure which is programmable in an interactive control panel. Depending on the client's needs, there are preset water choreographies for balancing, stimulating or relaxing effects.
Key features:

2 zone horizontal shower arm with Kohler® water technology
lying surface with air cushioning technology
base made of Corian®
shower arm cover in aluminium
intuitive touch screen control panel
electric adjustable and tiltable lying surface
facial water shield
hand shower
4 points integrated water drain for optimal water draining even on tilted table
international voltages available
Optional features:

horizontal choreographic shower with Kohler® water technology (Each waterjet is individually controlable.)
lying surface with heatable water cushioning technology
LED lighting for chromotherapy
hand shower with aromatherapy capsule system
steam dome
integrated audio system
Specifications:
height incl. arm: approx. 190 cm (74.8 in)
height of lying surface: approx. 63 - 100 cm (24.8 - 39.4 in)
total length: approx. 236 cm (92.9 in)
length of lying surface is approx. 203 cm (79.9 in)
width: 85 cm (33.5 in)
lifting capacity: 300 kg (661.4 lbs)
load capacity of the bed surface: 350 kg ( 771.6 lbs)
*Pictures show optional features, the indicated price always refers to the basic version*
Related links to "Libra Edge series"