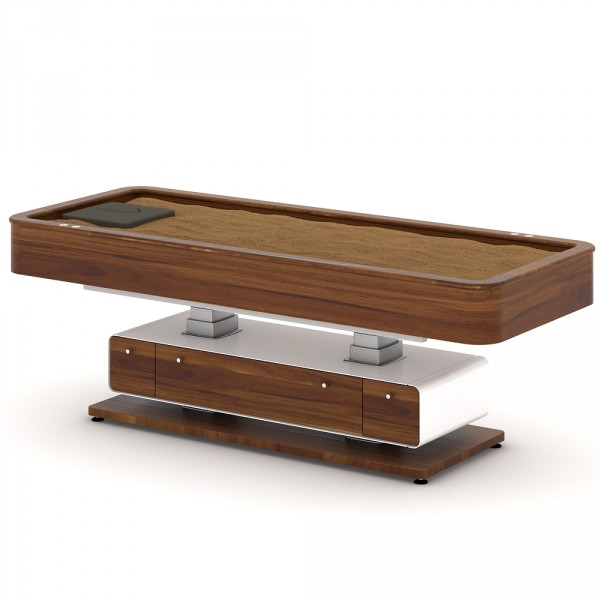 Please
sign in
to see prices and to continue shopping.

Description
Product information "MLX Quartz Round series"
Gharieni MLX Quartz Round

Inspired by the ancient rituals of the Egyptians, the MLX Quartz elevates the treatment room to an unparalleled experience for the guest. Warm sand quartz cocoons the body and replicates the benefits of a day spent at the beach. Quartz minerals impart wellness benefits and healing energy to the guest as well. Inversion gravity also enhances the benefits of treatment and lessens the impact on the therapist. A truly transformative experience that can be used both for body modalities or on its own as a complement to any service.
Key features:

rounded corners
made from genuine walnut wood
filled with alpha quartz sand and minerals
promotes deep relaxation with the variable heating system that ranges from mild to sustained heat
two lifting columns for height adjustment and inclination
storage compartment and two drawers
cushioned face cradle
international voltages available
Optional features:

other woods and paints
coloured upholstery: max. 2 different colours possible
Synthetic leather as standard
Synthetic leather Ferrari Stamskin Top
metal components in special colour (white, titanium or dark brown are standard)
dynamic Flow System
spa Ambience light
removable upholstery cushion for on-table massage
Specifications:
height: approx. 65 - 90 cm (25.6 - 35.4 in)
length: 216 cm (85.0 in)
width: 86 cm (33.9 in)
lifting capacity: 130 kg (286 lbs)
load capacity of the bed surface: 150 kg (330 lbs)
*Pictures show optional features, the indicated price always refers to the basic version*
Related links to "MLX Quartz Round series"
Item number:

I-W2QRDPWXXXRALXXXQXMX