MLX WellMassage 5D series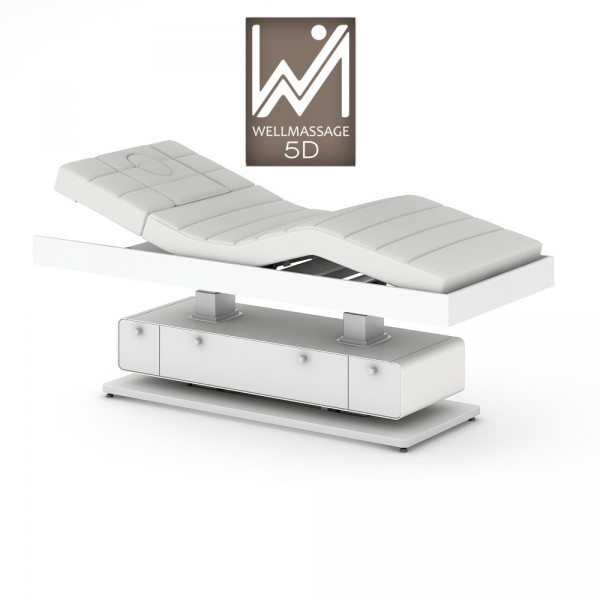 Please
sign in
to see prices and to continue shopping.

Description
Product information "MLX WellMassage 5D series"
Wellmassage5D: The innovative treatment concept

Based on eight special treatment steps, developed by the Gharieni Group, the WellMassage5D takes full advantage of the complete range of flexibility of Gharieni `s high tech signature spa table MLX. The MLX provides singular and proprietary table mobility allowing numerous treatment options and preset positions that are expertly coordinated with the relevant modalities. The WellMassage5D combines High Tech & High Touch to engage the guest and enhance treatment efficacy. Additionally the therapist has ideal ergonomic conditions to make the work more pleasant and lessen the physical effort.
Key features:

large storage space

removable armrest

height, incline, back and foot section electrically adjustable

Trendelenburg function

eight memory positions

locking function

PU or synthetic leather upholstery

international Voltages available
Optional features:

Smart-thermo special: programmable heating system with automatic shut-down

Coloured upholstery: max. 2 different colours possible
PU or Synthetic leather Ferrari Stamskin Top

Audio-relax headrest: with built-in speakers to connect to standard players

Metal components in special colour (white, titanium or dark brown included in the price of the bed)

Decorative surfaces from our collection (White and wenge are included in the price)

Foot switch with memory function: to control basic functions and memory positions

Soft upholstery
Specifications:
height: 57 - 97 cm (22.4 - 38.2 in)

length: 203 cm (79.9 in)

width: 85 cm (33.5 in)

upholstery width: 80 cm (31.5 in)

lifting capacity: 300 kg (660 lbs)

load capacity of the bed surface: 350 kg (770 lbs)
*Pictures show optional features, the indicated price always refers to the basic version*
Related links to "MLX WellMassage 5D series"
Item number:

I-W2MM4TXTAXVXAXHXXXHXFXXXPURALXXXXXXX4D