Pedicure chair PLS Podo Hydraulic series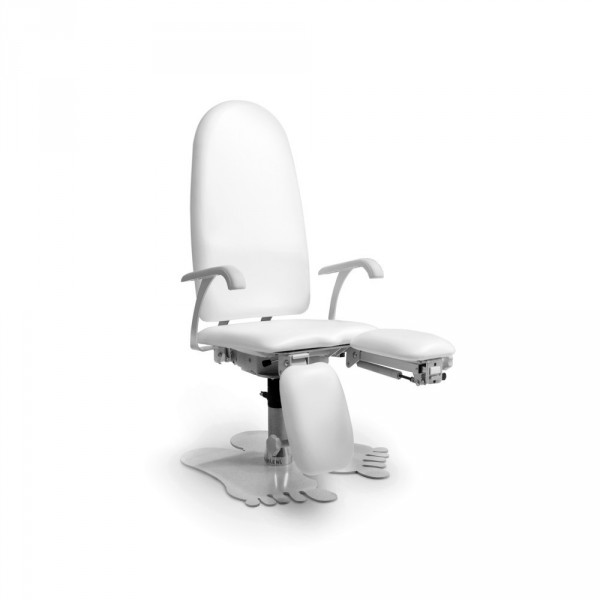 Please
sign in
to see prices and to continue shopping.
Description
Product information "Pedicure chair PLS Podo Hydraulic series"
Gharieni PLS Podo Hydraulic series
Key features

entry height approx. 59 cm (23.2 in)
working height of 110 cm (43.3 in) at maximum inclination
backrest, legrests and inclination separately adjustable via pneumatic spring
telescopic legrests
swivelmounted armrests (backwards)
white upholstery as standard
Optional features

Coloured upholstery: 1 colour possible
Synthetic leather as standard
Synthetic leather Ferrari Stamskin Top
Comfort-upholstery with inclinable headrest
XP-upholstery with Airback-lumbar support, inclinable headrest
Wider Comfort and XP upholstery (medium: 57 cm / 22.5 in)
Armrest, upholstery from standard-collection instead of PU
Armrest, upholstery from Ferrari-Collection instead of PU
Legs, pivotable by 90° to the outside
Manually-adjustable seat depth from 43 to 51 cm / 17 to 20 in (in 4 steps)
Apparatus for telescopic footrests, double-sided
Footrests, 2 pc
Specifications:
height: 59 - 79 cm (23.2 - 31.1 in)
width without/with armrests: 49 / 68 cm (19.3 / 26.8 in)
max. working height at the heel: 120 cm ( 47.2 in)
inclination of seat: 25°
*Pictures show optional features, the indicated price always refers to the basic version*
Related links to "Pedicure chair PLS Podo Hydraulic series"
Item number:

I-P5M0P0B0S0VA0VR0YYXXYY