Pedicure chair PLS Podo XP series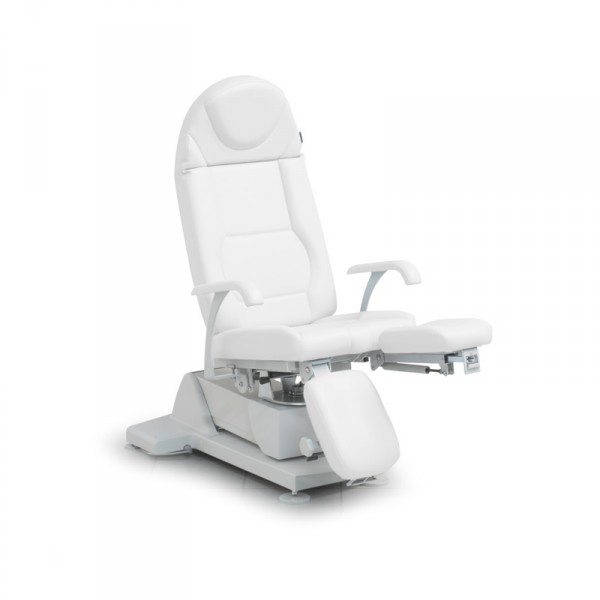 Please
sign in
to see prices and to continue shopping.
Description
Product information "Pedicure chair PLS Podo XP series"
Gharieni PLS Podo XP
Key features:

two actuators for height and inclination adjustment
backrest adjustable up to horizontal position via a Stabilus pneumatic spring
adjustable and telescopic legrests via pneumatic spring
low entry position (up to 46 cm/18.1 in, depending on model)
swivel-mounted armrests (backwards)
base model: white upholstery, light-grey casing, seat width 49 cm/19.3 in
inclinable headrest
foot control panel as standard
international voltages available
Optional features:

Smart-thermo heating system (not for adjustable seat)
Coloured upholstery: max. 3 different colours possible
Synthetic leather as standard
Synthetic leather Ferrari Stamskin Top
Rotonde +/- 105°: +/- 105° rotating seat
Colour casing: casing in titanium
Specifications:
height: 46 cm / 49.5 ? 84 cm (18.1 / 19.5 ? 33.1 in)
access height: 46 cm (18.1 in)
max. height heel pad: 126 cm (49,6 in)
length max.: 200 cm (78.7 in)
width without/ with armrests: 49 / 68 cm (19.3 / 26.8 in)
max. working height at the heel: 124 cm (48.8 in)
inclination of seat: 25°
lifting capacity: 200 kg (440 lbs)
load capacity of the sitting surface: 250 kg (551 lbs)
*Pictures show optional features, the indicated price always refers to the basic version*
Related links to "Pedicure chair PLS Podo XP series"
Item number:

I-P5MXMKXFXP2B1S1YYXXYYXX