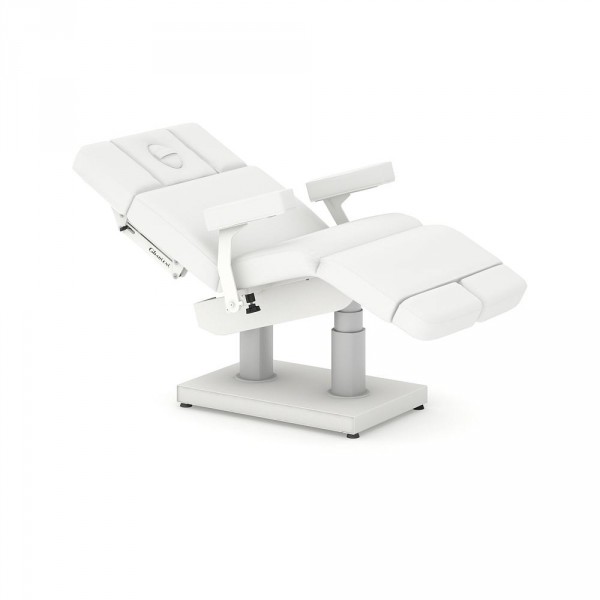 Please
sign in
to see prices and to continue shopping.

Description
Product information "Spa table 601 series"
Gharieni 601
Comfort, stability and practical handling are the main features of this double lifting column-supported combination table. Whether pedicure, cosmetic treatments, make-up, haircare, massages or manicure, the 601 always cuts a fine figure. The multifunctional, removable head and arm sections make it one of our most variable treatment couches.
Features:
Double lifting column technology
Fully electrically adjustable
Couch upholstery available in three widths: 75 cm (small), 80 cm (medium-small) and 85 cm (medium)
Cushions available in two thicknesses: standard and soft
Three different headrests available
Dual headrest with interchangeable face pads
U-shaped face support
Standard headrest with nose slot
Fold-away headrest for free access to head and neck (e.g. for hair washing)
Optional heated lying surface
Optional swivelling and removable side armrests for easy access with integrated manicure tray holder
Optional swivelling and lowerable armrests at the side of the headrest for effective massages
Can be operated via hand or foot switch
Four treatment positions preset, two further positions freely storable
Holder for magnifying lamps
Holders for manicure trays under the side armrests
Available in many different colours and decors
Also available as High Performance version with approx. 60% more lifting power and 25% higher speed
Technical data:
Height: approx. 59 cm - 99 cm (soft cushion +5 cm)
Length: max. 183 - 203 cm
Width (without armrests): 75/80/85cm
Lifting capacity: 400kg
Load capacity of the lying surface: 450 kg
Related links to "Spa table 601 series"