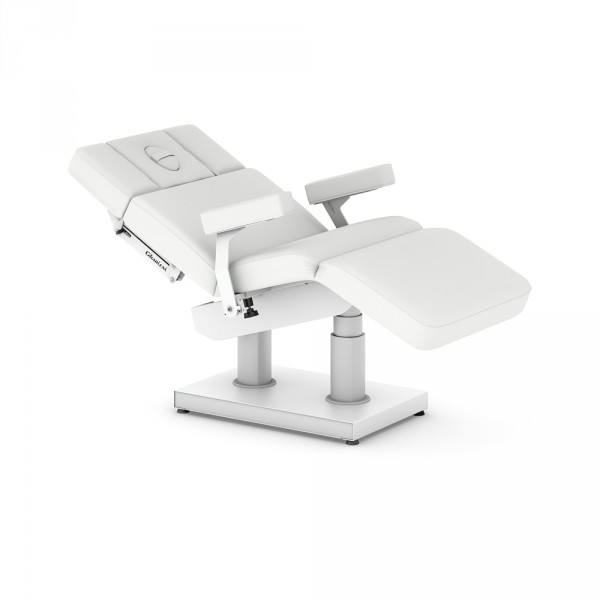 Please
sign in
to see prices and to continue shopping.

Description
Product information "Spa table 601 series"
Gharieni 601
Description
The new Gharieni 601 combines the best features of a spa table and treatment bed in one. Thanks to its completely new concept the Gharieni 601 offers perfect multifunctionality and ergonomics for every use.
As the name suggests, the 601 is a real 6 in 1 all-rounder. Thanks to its metamorphosis skills and its extremely flexible arm and head sections, facial treatments, pedicures, manicures, massages, make-up or hair care applications are effortlessly possible with this couch. The stable double lifting column technology ensures a secure stand and provides the basis for this extraordinary treatment couch. The swivelling side armrests ensure quick and easy access from the side by simply folding them down and pushing them under the couch. If required, e.g. for massages, the armrests can also be completely removed.
The fold-away headrest, which is available in three different versions, provides free access to the head and neck (e.g. for hair washing).
The Gharieni 601 has four preset treatment positions, two more positions can be stored freely. The completely electric operation of the couch is possible by hand or foot switch. As an option, a Smartphone App is available for the Gharieni 601, with which all functions that are otherwise selectable via the hand switch can be controlled.
A large number of holders for magnifying lamps or manicure bowls underline the functional design and make everyday work easier.
The Gharieni 601 offers with the optional integrated Smart-Thermo heating system or a wide range of upholstery and metal colours all known advantages of a Gharieni lounger. The upholstery of the Gharieni 601 is available as standard and soft upholstery in three different widths.
Features
Double lifting column technology for extreme load capacity
Fully electrically adjustable
Cushion of the couch available in three widths: 75 cm (small), 80 cm (small medium) and 85 cm (medium)
Padding available in two thicknesses: standard and optional soft
Three different optional headrests available:

Multifunctional headrest with exchangeable face rests
U-shaped support for the face
Standard headrest with nose slit

Fold-away head rest for free access to head and neck (e.g. for hair wash)
Swivel, removable side armrests for easy access
Laterally swivelling and lowerable armrests on the headrest for effective massages
Operation via hand or optional foot switch possible
Four treatment positions preset, two additional positions free storable
Automatic safety interlock after 30 minutes
Holder for magnifier lamps
Holders for manicure trays under the side armrests
Available in many different colours and decors

Options
Smart-Thermo Special: programmable heating system with automatic switch-off
swiveling and stowable armrests
Metal parts in special colours
lowerable and pivotable armrests
Manicure tray and holder
Bluetooth footswitch with memory function: to control the basic functions and memory positions
Soft upholstery
Lamp mounting on both sides
LED Magnifying Lamp Circle
Brakable castors
different headrests available

Specifications
height: 58 cm - 88 cm
Length: 194 cm
width (without armrests): S: 75 cm / MS: 80 cm / M: 85 cm
lifting capacity: 240 kg
Load capacity of the lying surface: 300 kg
*Pictures show special equipment, the indicated price always refers to the basic equipment*.
Related links to "Spa table 601 series"
Item number:

I-601-X-TXHXXXHXFXPXX-XX-XX