Spa table MLR Select Alu series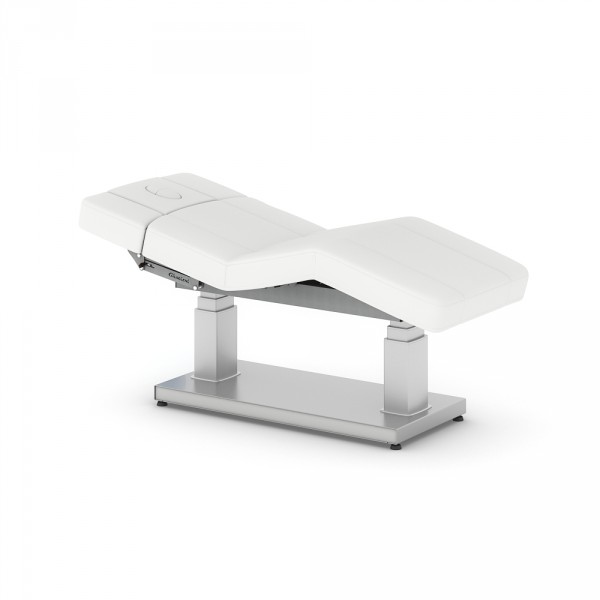 Please
sign in
to see prices and to continue shopping.

Description
Product information "Spa table MLR Select Alu series"
GHARIENI MLR SELECT Alu series
Description
The MLR Select is the further development of the MLR Classic and, unlike its predecessor, has lowerable and swivelling armrests. The spa table is available in three different versions: Alu, Wood and Static. The elegant and simple design provides optimum space for the therapists` legs. Two strong lifting columns allow the height adjustment and the inclination of the bed. The lowerable armrests as well as the adjustable head, back, leg and foot sections make the MLR Select a versatile spa table. As an option, the bed can also be equipped with the integrated Smart-Thermo heating system and other features.

Key features
basement in modern metal design in white, titanium or black-brown (optional in aluminum)
swivelling and lowerable arm supports
face cradle
height, incline, back and foot section electronically adjustable
Trendelenburg function
PU upholstery
Memory and lock function
international voltages available

Optional features
Smart-thermo heating: programmable heating system with automatic shut-down
Custom colored PU upholstery with 2 maximum colors (white and choco are standard)
Metal components of arm supports in special colour (white, titanium and black-brown are standard)

Vibro-Wellness: gentle vibration system with a range of different settings

Foot switch with memory function: to control basic functions and memory positions
also available as Pro version (fold-out foot section: manual or electrical)
Soft upholstery

Specifications
height: 61 cm - 97 cm (24 in - 38.2 in)
length: 200 cm (78.7 in)
width: S: 76 cm / M: 85 cm / L: 92 cm (29.9 in /33.5 in /36.2 in)
lifting capacity: 300 kg (660 lbs)
Related links to "Spa table MLR Select Alu series"
Item number:

I-W11MATXPXXM4MX-XXX