Spa table MLX Limber Podo series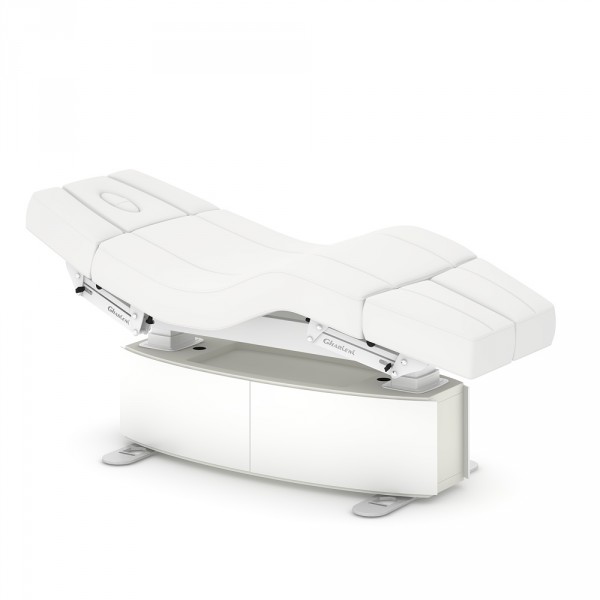 Please
sign in
to see prices and to continue shopping.
Description
Product information "Spa table MLX Limber Podo series"
Gharieni MLX Limber Podo series
Description
The MLX Limber Podo's numerous adjustment options provide unique flexibility - for a new dimension in your treatments. Four different model variants, each available with or without storage space, offer the ideal equipment for every requirement. With the MLX Limber Podo, the foot rests can be swiveled to the side, which makes working on the feet extremely easy. The oval-shaped lying surface and the extremely narrow base provide better access to the leg, head and neck areas. Up to six motors allow extreme positions and make the Limber a multifunctional couch with unmatched flexibility. The optional storage space in the couch base allows practical storage of work accessories and equipment.
Features
Height, inclination, head, back, leg, and foot section are electrically adjustable
Up to eight pre-stored positions can be called up at the push of a button
Lowerable and horizontally swiveling armrests
Inclinable head section with face cradle
Trendelenburg feature
Locking feature
With or without storage space
With PU comfort upholstery in two thicknesses or synthetic leather upholstery
Standard upholstery color: PU White, PU Choco or synthetic leather White. Other colors from our color collections for additional charge
Standard wood décor: White, Wenge, Gris Céramique, Erable Gris C and Beton. Other colors from our color collection for additional charge
Doors made of Corian® in Glacier White
Options
Smart-thermo special: programmable heating system with automatic shut-down
Soft upholstery
Custom colored upholstery with 2 maximum colors (PU, synthetic leather or Ferrari Stamskin Top) (PU White, PU Choco or synthetic leather White are standard)
Custom colored metal parts (white, titanium or black-brown are standard)
Wood décor from our collection (White, Wenge, Gris Céramique, Erable Gris C and Beton are standard)
Foot switch with memory function for basic functions and memory positions
Specifications
Height: approx. 63 cm - 98 cm
Lenght: approx. 200 cm
Width: max. ca. 85 cm
Lifting capacity:: 300 kg (660 lbs)
load capacity of the bed surface: 350 kg (770 lbs)
Related links to "Spa table MLX Limber Podo series"
Item number:

I-P9LXXMXTXTAXVXAXHXXXHXFXXXPURALXXXXX