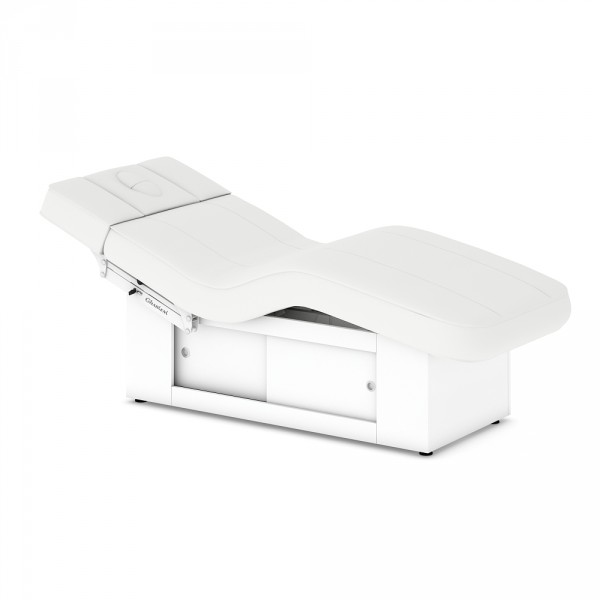 Please
sign in
to see prices and to continue shopping.

Description
Product information "Spa table MO1 Max Series"
Gharieni MO1 Max series
The Gharieni MO1 Max offers a perfect lying position and work comfort at the same time. The special feature: The compact base moves up with the lying surface and can be equipped with normal storage compartments as well as -optionally- with a warming drawer. This ensures both - optimal legroom and easy access to your working tools during the treatment.
Four treatment positions are preset, two additional positions are free storable. All functions are controllable via hand switch or optional Bluetooth foot switch. The pleasantly soft PU upholstery is available in sizes 'Small' and 'Medium'.

Key features:
Smart-thermo heating: programmable heating system with automatic shut-down
Base available with or without storage space
Base available with storage compartments and optional warming drawer
Height, leg and back area electrically adjustable
Armrests can be lowered
Robust PU upholstery in two widths
Face cradle
Four treatment positions preset, two further positions freely storable
Automatic safety lock after 30 minutes

Optional features:
Bluetooth foot switch
Soft upholstery available
Also available with lower flat upholstery
Standard upholstery colour: White or Choco (other colours from our colour collection at extra charge)
Base design selectable from different decors
Metal parts in special colours (white, titanium or black-brown are included in the price of the couch)
Spa Ambience Light: Base with LED lighting
Specifications:
Height (flat upholstery): 49-87 cm (19.3 in - 24.3 in)
Height (standard upholstery): 54-92 cm (21.3 in - 36.2 in)
Height (soft upholstery): 59-97 cm ( 23.2 in - 38.2 in)
Length: 204 cm (80.3 in)
Width: S 76 cm / M 82 cm (S 29.9 in / M 32.3 in)
Lifting capacity: 250 kg (550 lbs)
Load capacity of the bed surface: 300 kg (660 lbs)
*Pictures show optional features, the indicated price always refers to the basic version*
Related links to "Spa table MO1 Max Series"
Item number:

I-W12XM4KXTXPXXFBXLLXWDXSTX