Treatment bed SPL NEO Soft series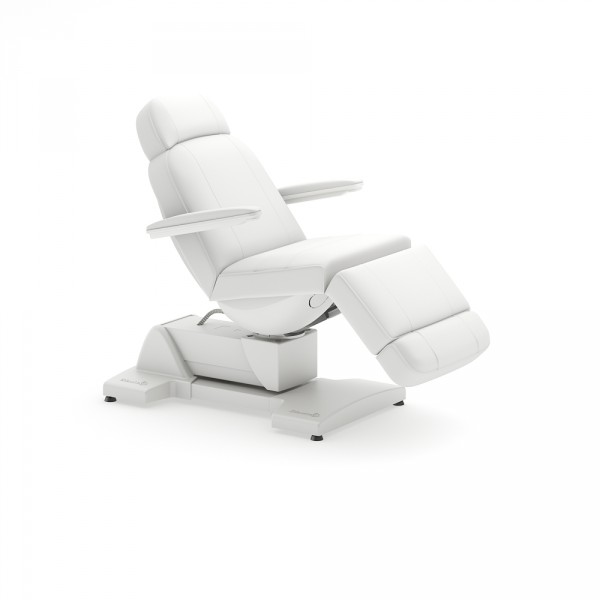 Please
sign in
to see prices and to continue shopping.

Description
Product information "Treatment bed SPL NEO Soft series"
Gharieni SPL NEO Soft

An outstanding treatment bed with extra soft upholstery for maximum comfort, it is available in three colors. With an entrance (seated) height of 59 cm, the SPL Soft is ideal for smaller people. The extended memory function of the SPL Soft offers four freely selectable memory positions at the push of a button. Equipped with the spline safety technology, The Gharieni SPL also offers an optional foot control to complement the hand control.
Key features

SPL technology with extra soft upholstery incl. mechanical Airback
fully electric
four rapid actuators
electronically adjustable height, back, sitting angle and leg section
ergonomic soft PU upholstery or synthetic leather upholstery
extendable foot and head section
four variable memory positions
hand held switch
also available in a podiatry version
international voltages available
Optional features

Rotonde 330° (for access which is approx. 2 cm higher): sitting surface that can be swivelled by 330°
Smart-thermo heating system
Vibro-wellness: gentle vibration system with a range of different settings
Coloured upholstery: max. 3 different colours possible
Synthetic leather as standard
Synthetic leather Ferrari Stamskin Top
Logo embroidery: depending on complexity
Multifunctional mounting without headrest: is required in order to attach the separately available crescent or U shaped headrest
XL widening: Attachment to widen the bed in the upper back section
Coloured XL widening: max. 2 different colours possible
Synthetic leather as standard
Synthetic leather Ferrari Stamskin Top
Audio-relax headrest: with built-in speakers to connect to standard players
Colour casing: Casing in titanium
Castor set, with brakes Art. 73006
Foot switch with memory function: to control basic functions and memory positions
Specifications:
height: 59 - 100 cm (23.2 - 39.4 in)
length: 144 - 203 cm (56.7 - 79.9 in)
width without/with armrests: 62 / 80 cm (24.4 / 31.5 in)
lifting capacity: 200 kg (440 lbs)
load capacity of the seating surface: 250 kg (550 lbs)
*Pictures show optional features, the indicated price always refers to the basic version*
Related links to "Treatment bed SPL NEO Soft series"
Item number:

I-K2M4RXTXVXKXAXFXP6AX